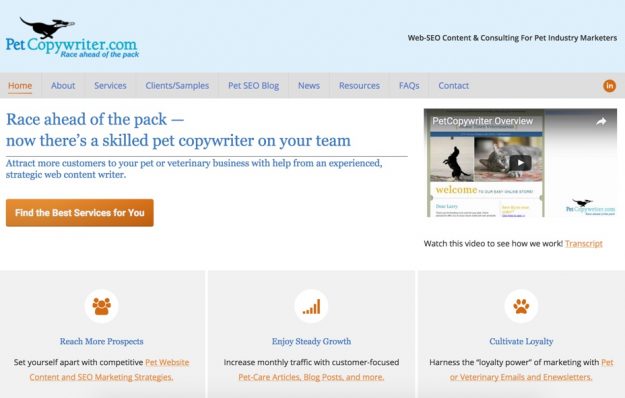 You may have noticed by now that PetCopywriter.com's website design has been updated. Thanks to the wonderful skills of graphic designer Jason Spooner and web developer Neil P. Arnold, we're thrilled with the results.
The reason we did this is… I didn't feel the website was showcasing what we offer pet and veterinary companies in a quick and overt way.
I took a fresh look at the site from the visitor's perspective, practicing what I preach in this blog. 🙂
I said to myself, "When someone arrives here, what should be the first impression they get in mere seconds?"
It's simply this: You can race ahead of the pack and attract more customers with help from a skilled pet-industry copywriter.
So the web team reworked PetCopywriter.com's home page with a clean and logical design, simple customer-benefit messages, a video introducing our services to potential clients, and clear invitations for visitors to explore our many services.
That's it! Much better when it comes to clarity that helps visitors know what to find here. I hope you agree. (Please let me know.)
Having said that, if you scroll below the first screen, you'll see more content about featured solutions and benefits. But if you choose not to scroll, you can quickly access specific sections of the site you're interested in.
I'm telling you this because you may want to consider whether or not your pet or veterinary website solutions "pop" in a clear and inviting way for your prospects. 
You could be missing opportunities with hundreds of potential customers, so it pays to take a hard look at your site.